Lake Type: Arizona Lake
Contact Information:
Town of Sahuarita
Sahuarita, AZ
Hours Daylight hours as posted at lake.
Phone (520) 648-1972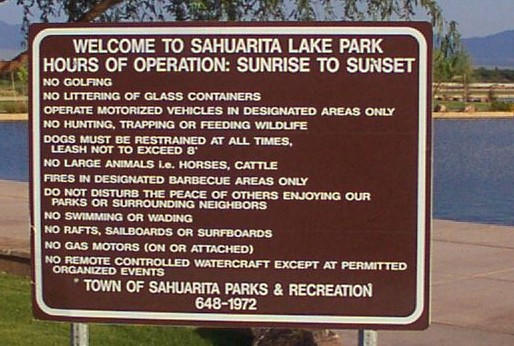 | | |
| --- | --- |
| Licence: AZ State Fishing Licence AND Urban Fishing Licence | Latitude: |
| Fee: n / a | Longitude: |
| | Elevation: |
| Camping: no camping | Size: 10 acres |
| Restrooms: none | Depth: Maximum depth 12 feet, average depth 7 feet |
Lake Description: Not too far from I-19 , and with the new signs, it's not too hard to find. Not much shade on the lake, and some days it's crowded.but easy to fish and a nice drive to the lake. Make a day of it and visit Madera Canyon as well. It's about a 15 minute drive south into the mountains, it's a nice cool place to hike and watch birds.
Rules: Swimming or wading prohibited. All animals must be restrained by a leash. Alcoholic beverage permits required. Glass containers prohibited. Other rules posted.
Boats: Boating permitted only between sunrise and sunset. Gas motors prohibited and not allowed to be attached to boats on the lake. Must have proper floatation devices on board. For other boating rules, call the information number
Licence: AZ State Fishing Licence AND Urban Fishing Licence
Accessibility There are no facilities at the lake, not very hilly and with many nice areas to fish from shore. This lake is well worth the trip if you live in Tucson or Southern Arizona. We enjoy this lake from shore, because it is small and usually not crowded The area is not rugged , but may need assistance.
Distance from Tucson: 18 miles south of downtown Tucson
Distance from Phoenix: 2.5 hours
Directions: Take Sahuarita Road exit (exit 75) off Interstate 19 (Nogales Highway) and head 1.0 miles east to La Villita Road. Take La Villita Road 1.2 miles north to the north shore of the lake.
Access Road: Paved roads to the lake
Type of Fish: channel catfish, rainbow trout (in season), largemouth bass. bluegill, redear sunfish, and hybrid sunfish.
Bag Limits: 4 catfish, 4 trout (2 for unlicensed juveniles), 4 bass (13INCH MINIMUM), 10 sunfish.
(Visited 873 times, 2 visits today)